Updated: 2023.03.16
Applicable products: SwitchBot Pan/Tilt Cam, SwitchBot Pan/Tilt Cam 2K(3MP)
SwitchBot App version: 6.24 or newer
Device firmware version:

SwitchBot Pan/Tilt Cam: 1.0.2 or newer.
SwitchBot Pan/Tilt Cam 2K: V33.9.14 or newer.
1. Make sure your SwitchBot app version is up to date.
2. Make sure the QR code is fully displayed and not hidden or covered.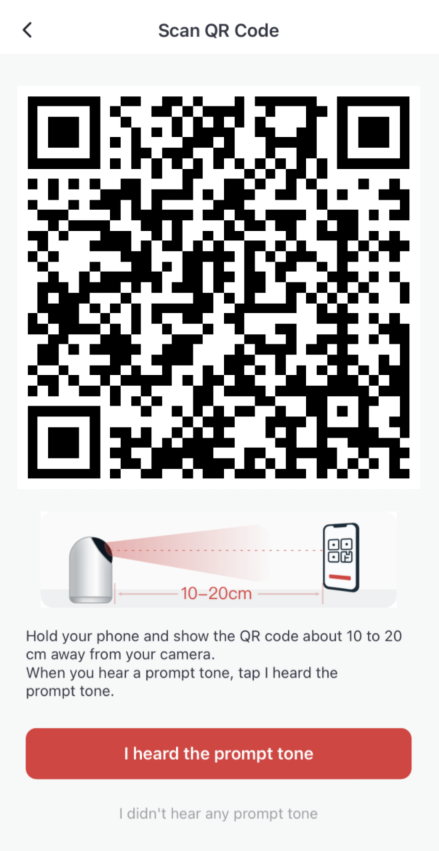 3. Make sure that the lens of the camera is clean and free from fingerprints, liquids, etc.
4. Make sure there are no other light sources of interference around.
5. Generally, adjusting the distance (10-20cm), angle, and position between the camera and the cellphone can improve the chance of it being scanned successfully.
6. If it still doesn't work, adjust the cellphone screen to the brightest and try it again.
7. If you are using Dark mode, please turn off the Dark mode and then try to add it again.
If it doesn't work, Please submit a feedback.
Send feedback
To receive a technical help from SwitchBot support team, follow these steps:
On your same device, Go to SwitchBot app > Tap Profile > Tap Feedback > Select the product (which you need support for) > describe the issue in detail (with media if needed) as follows:
App screenshots when the adding process goes wrong
When did the problem first occur
When did you perform step 6
What environment and lighting conditions is the camera used in
After receiving the feedback ticket, we will analyze your problem as soon as possible. You can also contact our customer support team by phone, live chat, etc.