Updated: 2023.03.16
Applicable products: SwitchBot Pan/Tilt Cam, SwitchBot Pan/Tilt Cam 2K(3MP)
SwitchBot App version: 6.24 or newer
Device firmware version:

SwitchBot Pan/Tilt Cam: 1.0.2 or newer.
SwitchBot Pan/Tilt Cam 2K: V33.9.14 or newer.
1. Make sure your SwitchBot app version is up to date.
2. Make sure the Pan/Tilt Cam has been added to the SwitchBot App, and the firmware version of the camera is up to date.
Go to SwitchBot app, tap the camera device.
Tap the gear icon⚙️ on the top right corner.
Tap Firmware Version, and proceed to upgrade.
If the update is not displayed, log out of your app, log in and check again.
3. Make sure your Micro SD Card (or "TF card") does not exceed 128G. The storage size of the Micro SD Card (or "TF card") for the SwitchBot Pan/Tilt Cam (2K) should not exceed 256G.
4. Make sure that your Micro SD Card is in FAT32 format; otherwise, the Micro SD Card may not be recognized, or you will receive a prompt of "The Micro SD Card is not in the correct format." We suggest that you try to use the formatting software on the below link to convert the SD card to FAT32 format.
※Use this application for FAT32 format operation: Formatting SanDisk USB flash drives in FAT32 format using third-party Windows applications
※Before formatting, please backup the important data in advance.

5. Please refer to the picture below, rotate the camera up and expose the SD card slot. Align the SD card with the card slot and gently push it inward to complete the card installation.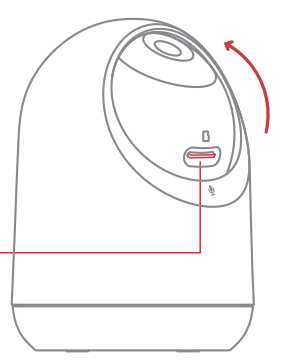 6. If you encounter other SD card problems, please contact us by tapping [Profile]-[Feedback] in the SwitchBot App, and provide the following specifications:
- Manufacturer of the SD card.
- Storage capacity of the SD card.
- Purchase link for the SD card.
After receiving the feedback ticket, we will analyze your question as soon as possible. You can also contact our customer support team by phone, live chat, etc.
SD cards in this post refer to Micro SD cards.