Please note:
If you want to change your Wi-Fi router, go into Advanced or Network Settings and select 'Edit' to reconfigure it.
When using the Hub Mini, always use a 5V1A/5V2A adaptor.
Set the Hub Mini to a 2.4GHz or IPv6 network that can switch automatically to IPv4.
Please turn on "Access Location". *Please allow 'Location' for the SwitchBot app to work properly.
Step 1. Install SwitchBot App and sign up SwitchBot account.
(If you are a SwitchBot user already, please skip this step.)
Launch the App and tap "Sign in"on the left side menu.
Step 2. Authorize the Bluetooth and location services on your phone.
Then tap "Add Device" in the App, choose "Hub Mini".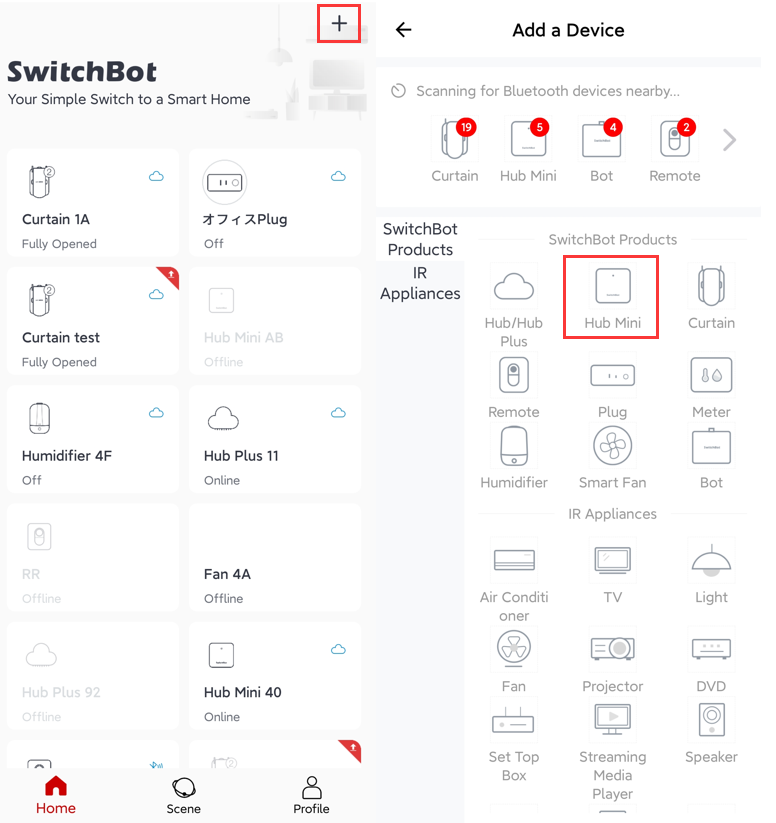 Step 3. Press and hold the button on top of Hub Mini until the indicator flashes and then tap "next." And input SSID and password. (note: 5G Wi-Fi is not supported for now). You can change the device name at the same step.
This section provides information on router settings. As the configuration method differs depending on the router model, please contact the manufacturer or provider for more information.
1. Make sure your home network does not have security features such as MAC address filtering enabled.
2. Please do the setting work near the WiFi router.
3. 5G Wi-Fi is not supported, so please use 2.4G Wi-Fi. There are two routers, 5G and 2.4G Wi-Fi, but be sure to connect to 2.4G Wi-Fi.
4. Check the security settings of your Wi-Fi router.
Wi-Fi settings (encryption method, DHCP, firewall, etc.) may be the cause.
WPA2-PEAP, WPA3-PEAP, WEP and WPS cannot be supported.
WPA-PSK/WPA2-PSK is recommended.
Please make sure that your Wi-Fi router assigns an IP address to the Hub Mini - this is not a problem if you have automatic IP address acquisition (DHCP settings).
If a firewall is configured, Hub Mini may not be able to connect to the ground service. If you cannot connect, please check your firewall settings.
5. In some cases, the issue was resolved by updating the firmware of some routers to the latest version. Please make sure you have the latest version.
6. If you install a Wi-Fi repeater in your home, please make sure that the repeater mainly uses the 2.4Ghz band.
7. Mesh Wi-Fi (a type in which the router automatically switches between 2.4Ghz and 5Ghz) is basically automatically connected to 2.4Ghz, so you can use it, but some WiFi routers try to connect to 5Ghz. There are cases where it may be affected, so it is rarely affected.
* The protocol and port information will be "MQTT OVER TCP PORT 8883".
If you are still unable to complete the initial setup after trying the above settings, please try Hub Mini from another network or from your mobile's personal hotspot for troubleshooting.
Please refer to the following method for personal hotspot.
How to set up personal hotspot in phone settings?
1. Select Settings > Cellular or Cellular Data or Settings > Internet Sharing.
2. Tap the slider next to Allow Others to Connect.
3. Enable Internet Sharing, then set up Hub Mini and configure Wi-Fi connection settings.