Updated: Feb 23rd, 2023
Applicable Products: SwitchBot Pan/Tilt Cam、SwitchBot Pan/Tilt Cam 2K、SwitchBot Indoor Cam、SwitchBot Outdoor Spotlight Cam
1. Please make sure that the SwitchBot App is the latest version.
2. We will introduce each button using Pan/Tilt Cam as an example.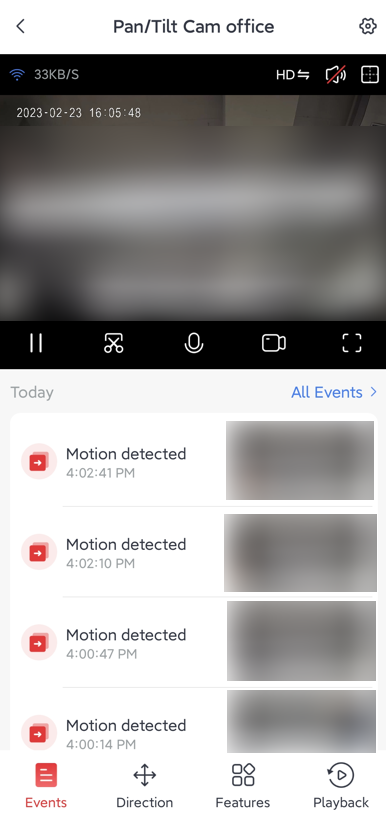 3. Let me explain the meaning and function of the icons.
The button allows you to change the resolution of the screen; HD has a higher resolution but requires a higher Internet connection speed. On the other hand, if you switch to SD, the picture quality is not so clear, but it is still enjoyable enough for a smartphone.
Mute button. When unmuted, you will hear the ambient sound at the camera's installation location.
Press this button to switch to multi-view. If multiple cameras are paired to one account, up to four real surveillance screens can be viewed.
Pressing this button pauses the monitoring screen.
Screen Capture button. When pressed, a screenshot of the monitored screen at that point is generated. The screenshot can be viewed under "Playback" > "Recordings and Screenshots".
Call button. In one-way call mode, press and hold this button to talk. If you are in a two-way call mode, this button becomes a phone symbol, and you can press it once to keep talking. Press it again to end the call.
*Related Posts: Talk Mode of the SwitchBot Indoor Cam and Pan/Tilt Cam(2K/3MP)
Screen Recording Button. Pressing it starts recording the real surveillance screen, and pressing it again ends the recording. Recordings can be viewed under "Playback" > "Recordings and Screenshots."
Press this button to view the monitoring screen in full screen.
4. The following information is for the bottom item column.
Events: List of motion-detected images.
Direction: The lens can be adjusted up, down, left, or right. (Only for Pan/Tilt Cam、Pan/Tilt Cam 2K)
Features:
Pressing the Motion Detection/Privacy Mode/Night Vision button will turn on/off the corresponding function conveniently.
Pressing the motion tracking button allows the camera to move up, down, left, and right (115 degrees vertically, 360 degrees horizontally) to track a moving object when motion is detected. (Only for Pan/Tilt Cam、Pan/Tilt Cam 2K)
The Outdoor Spotlight Cam/Pan/Tilt Cam 2K emits a sound when the Alert button is pressed.
When the Spotlight button is pressed, the Outdoor Spotlight Cam will turn on LED lights.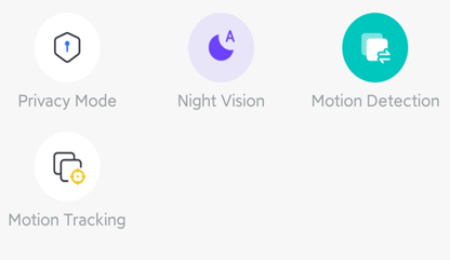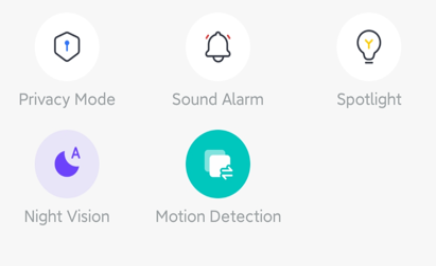 Playback: SD card video/cloud video/screen recording and screenshots can be viewed.