Updated 2023.1.3
Applicable products: SwitchBot Remote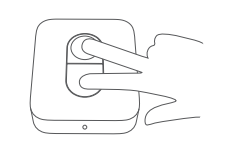 1. Press and hold both keys on your SwitchBot Remote, and you will see the LED indicator light starts flashing.
2. Hold both keys for 15 seconds and release prior to the light stops flashing.
3. Then your Remote will emit a beep sound and the indicator light will light up for 1.5 seconds.
4. Now your SwitchBot Remote has been reset to factory settings.
If this does not work, please contact us by logging into the SwitchBot app > Profile > Feedback.