Updated: 2022.12.21
Applicable products: SwitchBot Bot
SwitchBot app Version: 6.20.1 or newer
Device firmware version: V6.4 or newer
1. Make sure your SwitchBot App version is up to date.
2. Make sure the plastic insulating battery isolation tab is removed.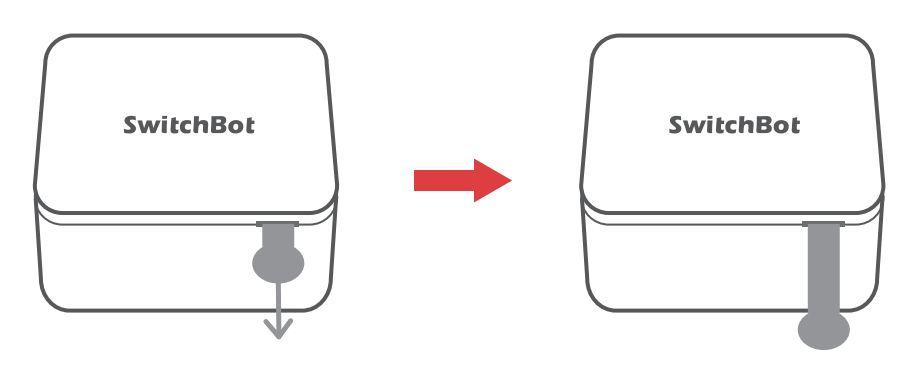 3. Turn on your mobile phone's network, and make sure that both Bluetooth and have been enabled for the SwitchBot App. Only when those 2 options are enabled can the SwitchBot Bot be detected.
For Android devices under 12, make sure Location Service also enabled.
4. The Bot may be out of battery and can't be detected if haven't been used for 6 months. Please kindly replace your battery the bot uses a CR2 battery.
5. In SwitchBot App, Tap the Bot icon on the Home page to control it. If the Bot icon does not appear, swipe down to refresh the page.
6. If the Bot remains undetectable, follow the steps to reset Bot:
Open the Bot back cover lid.
Short-press the reset button in the corner ONCE (Do NOT long-press).
You'll see the indicator flash ONCE to confirm the reset completed.
If you accidentally long-pressed the reset button, the indicator flicks once. Remove the battery and install it again.
You will see the indicator light blink once. After that, short-press the reset button once briefly to reset the Bot.
7. Turn your mobile phone's Bluetooth off and on again, and get as close to the Bot as possible.
8. Remove the battery from the Bot and insert the battery while pressing the reset button inside the bot, then go to Switchbot App -> Profile -> Firmware Repair and see if the Repair Bot Firmware item appears. If the Repair Firmware item appears, try repairing the Bot.
9. If it still doesn't work, feel free to reach your SwitchBot Support team by opening SwitchBot App > Tap Profile >Tap Feedback > Select your device, or reach us with the popup icon on this page.