Last updated: 2023.03.15
Applicable products: SwitchBot Lock
SwitchBot app version: 6.24 or newer
Device firmware version: 6.4 or newer
1. Make sure you have the latest version of SwitchBot app to get bug fixes.
2. Make sure the Lock have the latest firmware version V6.1, which significantly reduces mechanical error & power failure. Please fill in your Switchbot account at questionnaire link below. Firmware 6.1 upgrade notification will be automatically pushed to SwitchBot app within 30 seconds after submission.
3. Check your Lock battery. Make sure the remaining battery is above 50%.
Go to SwitchBot app, tap the Lock button.
Tap the gear icon ⚙️ in the upper right corner.
At the sub menu, Tap Firmware & Battery to check.
If the battery level is low, replace the battery.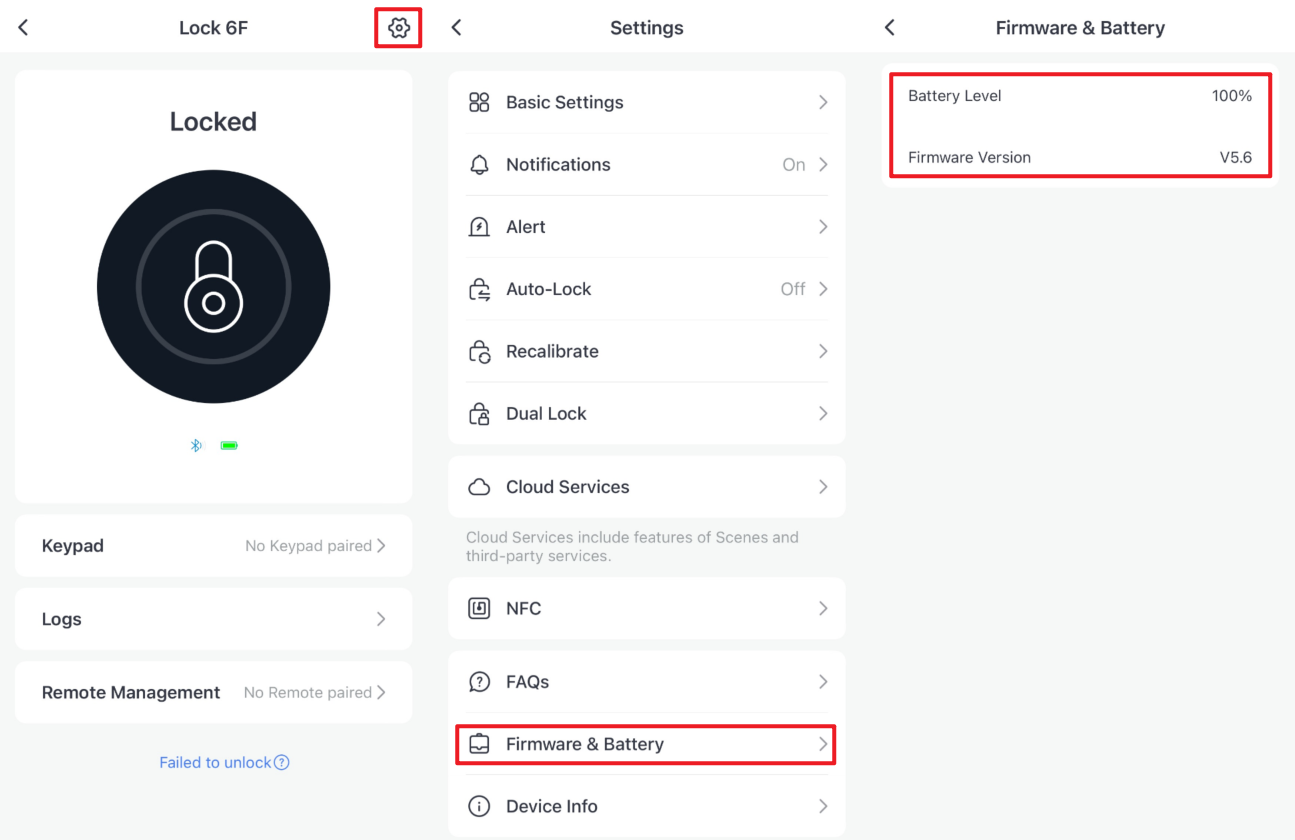 4. Make sure the SwitchBot App has been authorized for and turned on the Bluetooth and Location Service in your mobile phone.
5. Keep the door open and turn the thumb-turn by hand; check if you can operate to lock and unlock smoothly.
6. Open the door and manually turn the thumb-turn to the locking position. Then let go to see if the latch springs back. If so, the SwitchBot Lock might be incompatible with your door.
7. Make sure the Cloud Service of the SwitchBot Lock has turned off. Then reboot the Bluetooth of your mobile phone by turning it off and on again to see if that solves the problem.
8. If the jamming issue presists, please follow the steps below to submit a feedback request with the relevant media files so that we can further help.
https://forms.gle/BGHWJK3rP72wt5MQ7
Send feedback
To receive a technical help from SwitchBot support team, follow these steps:
On your same device, Go to SwitchBot app > Tap Profile > Tap Feedback > Select the product (which you need support for) > describe the issue in detail (with media if needed) as follows:
Video 1: lock and unlock the SwitchBot Lock by hand. Record the whole process.
Video 2: perform a re-calibration. Record down the whole process.
To avoid a home lockout, please operate indoors.
Snap from the side angle of the lock.
Note: The more information you include in your feedback, the more helpful it is for us. It's suggested to describe more issues you're experiencing as follows:
How often do these Lock issues occur (100% or sometimes)?
When was the last time this issue occurred to the Lock.
The brand of your door lock.
The model of your door lock.