Using SwitchBot Hub devices as a bridge

Controlling old infrared appliances via your Hub
Using SwitchBot Hub devices as a bridge
Currently, all SwitchBot smart home devices can be sorted into two main categories:
Wi-Fi devices: these devices have a Wi-Fi module inside, like SwitchBot Hub Mini, and SwitchBot LED Strip Light.

Bluetooth only devices: SwitchBot devices that can not connect to the internet directly can be accessed and controlled directly using your smartphone. Bluetooth devices are not Wi-Fi suitable due to signal interference, and energy consumption.
However, this doesn't mean we can't connect SwitchBot Bluetooth-only devices to our home network. If we have a SwitchBot Hub connected to the same account, we can build a network bridge for such devices allowing them to be connected to our network indirectly.
When using Bluetooth only SwitchBot devices with a SwitchBot Hub, you can navigate to the settings page of your device and turn on Cloud Services to enable more device features.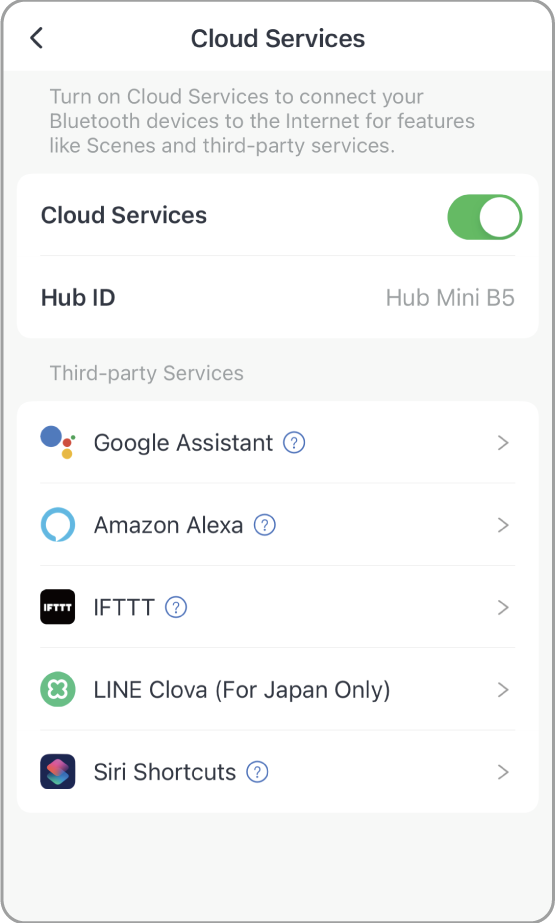 After turning on Cloud Services, you'll be able to remotely control your device even when outside Bluetooth range. You can also control your devices using third-party smart assistants like Alexa, Google Home, Siri Shortcuts, IFTTT, and more.
When we turn on Cloud Services for SwitchBot Bluetooth devices, they will communicate with your SwitchBot Hub via Bluetooth. The Hub is also communicating with the Cloud via a 2.4GHz Wi-Fi network. Every time we try to control a SwitchBot Bluetooth device using our smartphone when not in Bluetooth range, the command will go to the Cloud first, and then be forwarded to your SwitchBot Hub. The Hub will tell the corresponding device what to do via Bluetooth signal when it receives the command. You can find out more by checking the image below: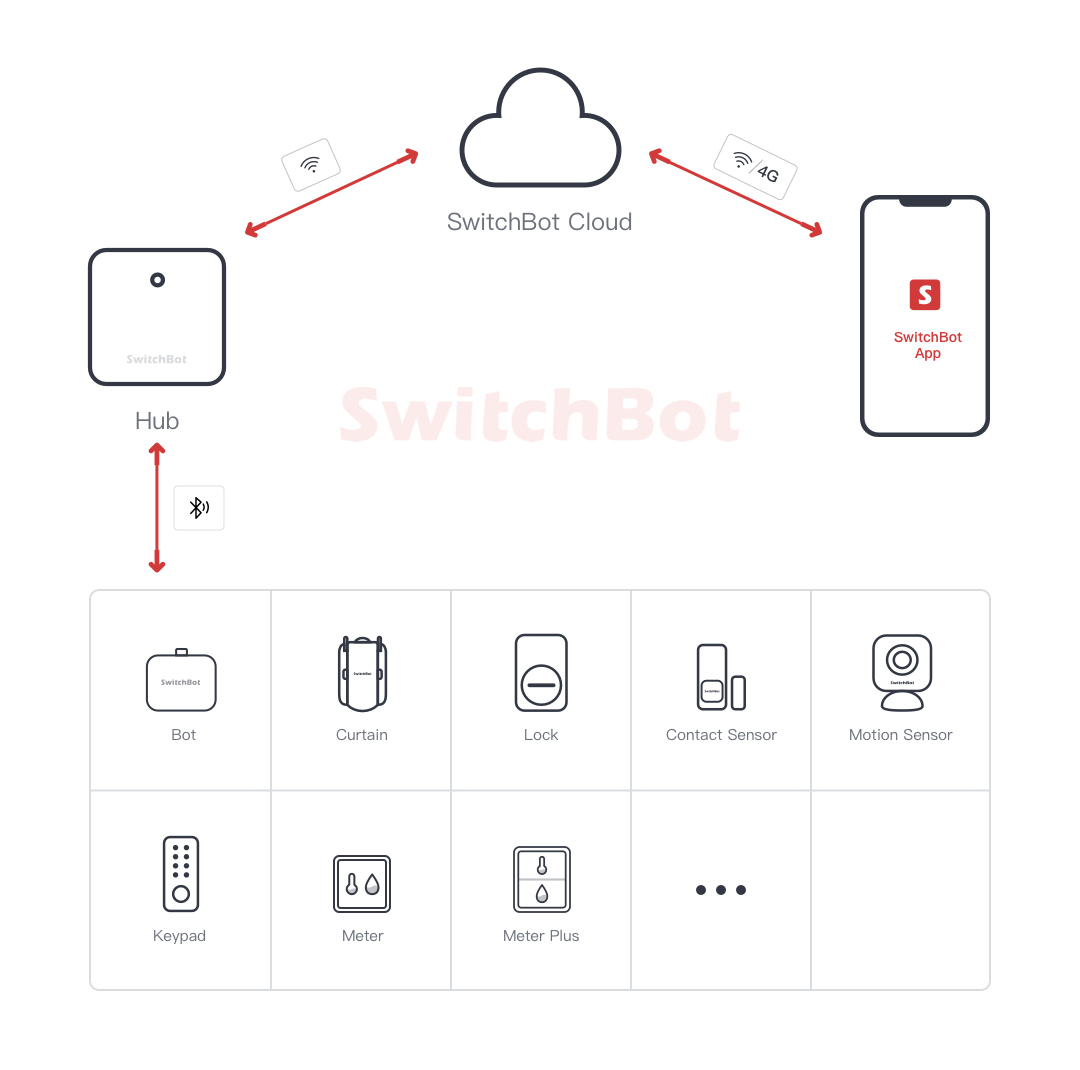 2. Controlling old infrared appliances via your Hub
SwitchBot Hub Mini and SwitchBot Hub Plus can do more than build a network bridge for SwitchBot Bluetooth devices. There is also an Infrared receiver and emitter built inside that allows them to learn many Infrared remote control commands to enable you to use your remotes virtually via your smartphone.
Your Hub can learn the Infrared signal, and every time you try to control the corresponding infrared appliance over using your smartphone, the command will go to the Cloud first, then it will be forwarded to your SwitchBot Hub. Your Hub will then emit an infrared signal to control the corresponding appliance. You can find out more below: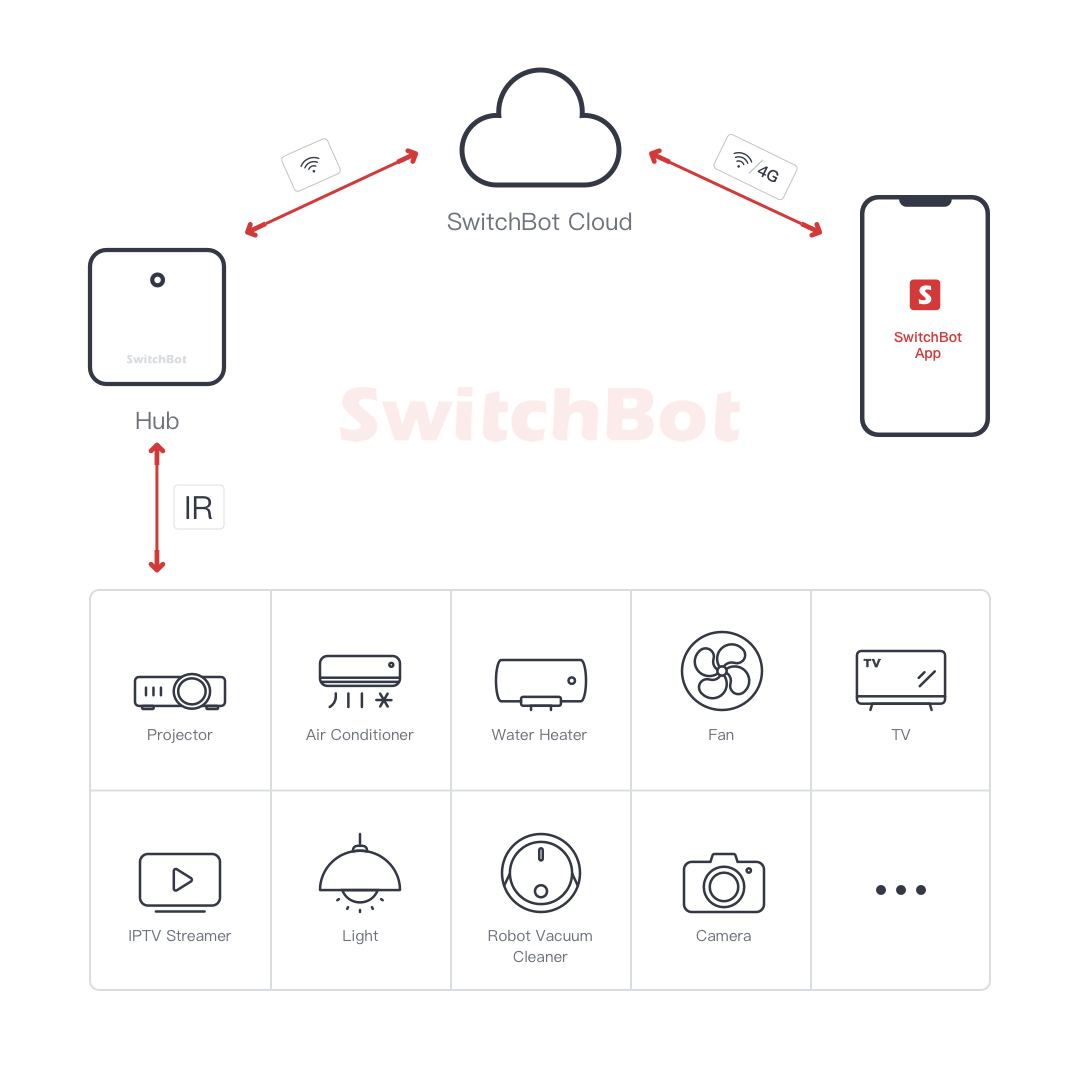 SwitchBot Hub devices can be found in the following models: