In order to fully benefit from SwitchBot products and services, it is necessary to have a valid SwitchBot app account and to be logged in whenever you use a SwitchBot device from anywhere in the world. Let's have a look at just a few points when logging in or creating your SwitchBot app account.
1. Can I login/signup with a SwitchBot website account directly?
Yes. You can log-in SwitchBot app with a Website account directly.
1. The website account you registered on SwitchBot website store (switchbot.com) is the account you use to access the SwitchBot official store, purchase SwitchBot products, check orders, access deliver information, etc.
2. The website account data can now be synced and transferred to help you create a SwitchBot app account.
3. When logging in with an existing website account, Make sure that the email/username and password are entered correctly.
2. Can I login/signup with third-party apps?
Yes. you may be set up to log in to SwitchBot app using 3rd-account as authentication credentials from another application, like Apple, Google, or Amazon.
1. In this case, the icon of the 3rd platform will appear as little badge beside your SwitchBot app avatar.
2. You don't have a stand-alone SwitchBot username or password.
3. I forgot my password. How do I reset it?
Follow the steps below to find your password:
1. Tap "Forgot Password" on SwitchBot App account login page.
2. Enter your email/username.
3. Tap "Send verification code".
4. Follow instructions to reset your password.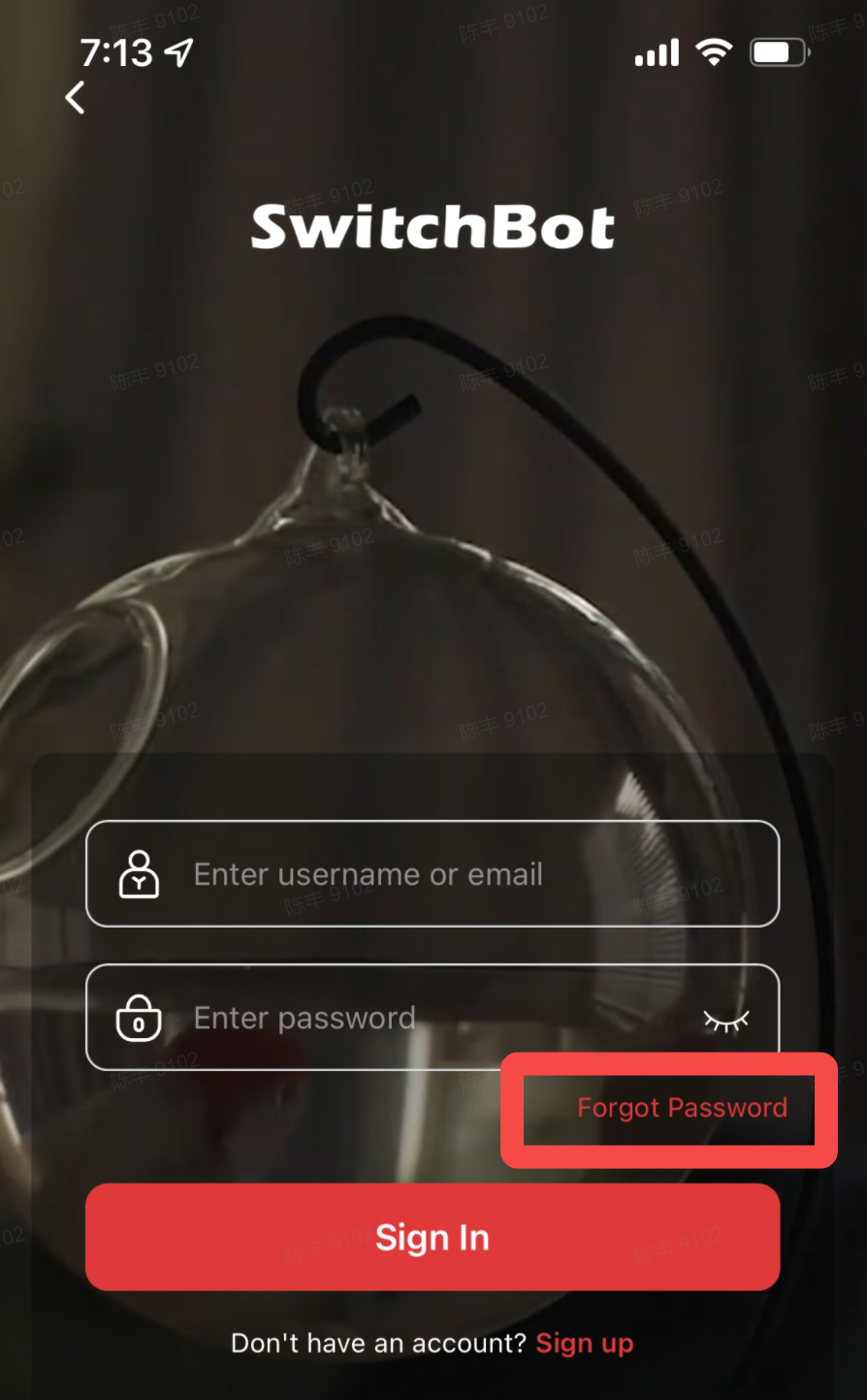 4. What do I do if I am prompted with an "email error" when log-in or register?
Please note: When you log in/sign up in SwitchBot App, if the email does not match the requirements, you may be prompted with a notice: "email format error".
SwitchBot App Account, Email/usernames must be in letters (case-sensitive), numbers, dots, underscores, or minus signs. The initials must be letters or numbers.
For example, the following emails meet the requirements for SwitchBot App.
user_name@switchbot.com

user-123@switchbot.com

123-user@switchbot.com
While the following emails are NOT eligible for the SwitchBot App account, because they have initials other than letters or numbers, or use special characters that are not supported.
_user123@switchbot.com

-123user@switchbot.com

user*123@switchbot.com
If the email failed to meet the requirements, It's suggested to choose another email address that meets the format requirements for registration.
5. I can't receive the verification code sent to my email.
Follow the article below to troubleshoot:
Failed to get verification code from SwitchBot?