Last updated: 2023.03.15
Applicable products: SwitchBot Lock
SwitchBot app version: 6.24 or newer
Device firmware version: 6.4 or newer
If the auto-lock/unlock function does not work, please check by the following steps:
1. Make sure you have the latest version of SwitchBot app to get bug fixes.
2. Make sure the Lock have the latest firmware version, which significantly reduces mechanical error & power failure.
3. Check your Lock battery. Make sure the remaining battery is above 50%.
Go to SwitchBot app, tap the Lock button.
Tap the gear icon ⚙️ in the upper right corner.
At the sub menu, Tap Firmware & Battery to check.
If the battery level is low, replace the battery.
4. Make sure the distance between the magnet and the lock is within 3cm. Please avoid installing the magnet too far away or on any metal surface to avoid magnetic disturbance, or you will need to reinstall it.
Note: the magnet is designed to detect the Lock status of auto-lock/unlock.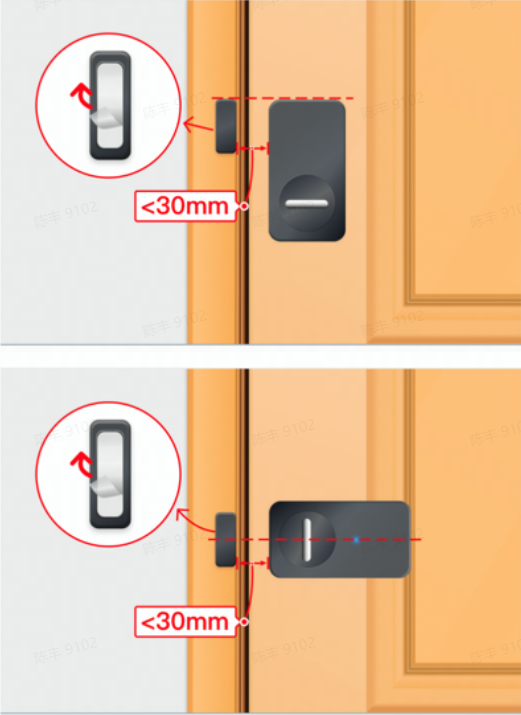 5. Remove the 2 batteries from the lock body at the same time to do a reset. After the reset, Please re-calibrate the lock. Refer to the video below:
6. If reset and recalibrating doesn't help, delete the lock from the app and add it again to check if it helps.
7. If the problem still exists, feel free to submit a feedback to us.
Send feedback
To receive a technical help from SwitchBot support team, follow these steps:
On your same device, Go to SwitchBot app > Tap Profile > Tap Feedback > Select the product (which you need support for) > describe the issue in detail (with media if needed) as follows:
Take a video to show the auto-lock/unlock problem.
Take a close-up photo of installation position, including the Lock, the magnet and door frame.
Brand, model, and online purchase link (If possible) of your door lock.
Your current app & firmware version.