Before pairing the SwitchBot Bot to the Hub Plus/Mini:
SwitchBot Hub Plus/Mini
SwitchBot
First of all, add the SwitchBot and the Hub Plus/Mini to the SwitchBot account:
Set up your SwitchBot Hub Plus
How to set up SwitchBot Hub Mini
After that, place the Bot near the Hub Plus/Mini and wait until the icon near the bot turns to a cloud.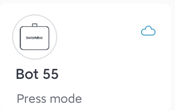 Then tap the Bot icon to go into Bot Settings, and then tap Cloud Service. And enable the Cloud Service.