Updated: Dec 27th, 2022
Applicable Products: SwitchBot Keypad, SwitchBot Keypad Touch
SwitchBot App Version: V6.19.1 or newer
Firmware Version: SwitchBot Keypad V1.6 or newer, SwitchBot Keypad Touch V1.7 or newer
1. Make sure you are using the latest version of our app.
2. Please ensure that SwitchBot Keypad/ Keypad Touch has been added to your account and is using the latest firmware.
3. If the passcode/fingerprint (SwitchBot Keypad Touch only), or NFC cards do not respond when trying to unlock, please check if the Disable Keypad option is turned on in your device settings screen, and turn it off if it is.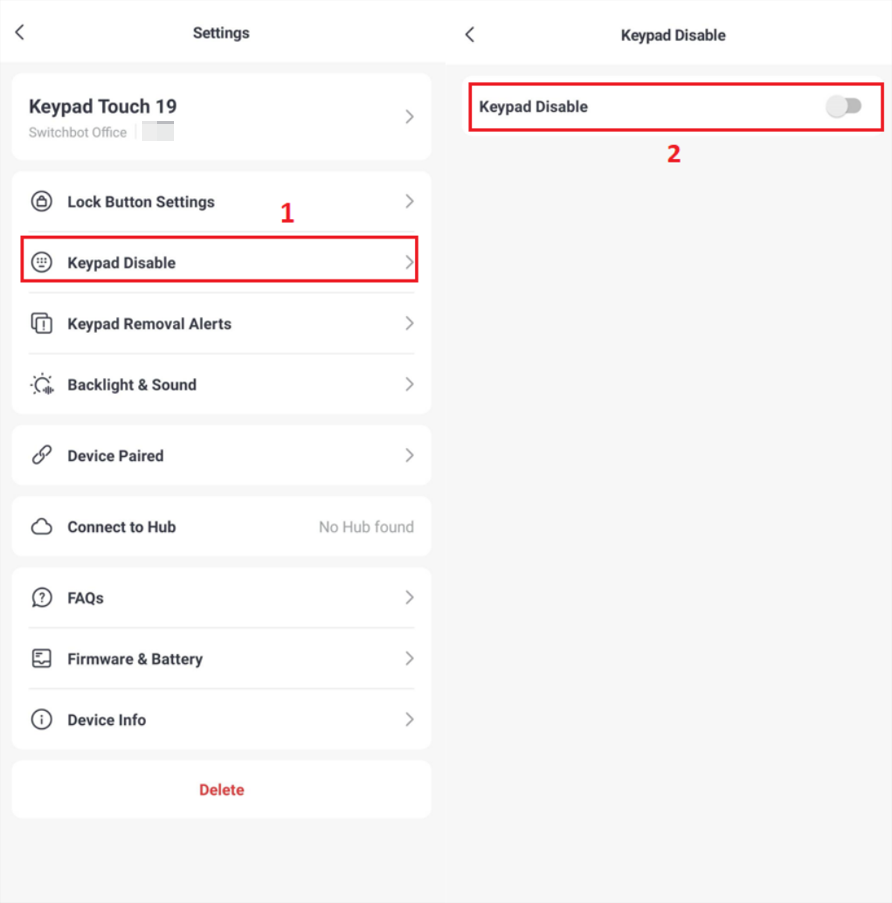 4. If SwitchBot Keypad/ Keypad Touch is disabled due to 5 failed authentication attempts, please cancel the disablement.
*Related Posts: Keypad/Keypad Touch was disable due to 5 failed unlocking attempts
5. Try removing and inserting the batteries back into your SwitchBot Keypad/ Keypad Touch to see if a connection to Bluetooth can be made.
6. If removing and inserting batteries does not solve your issue, check whether the remaining battery level of the batteries inside your device or check if the batteries are defective. Try to connect to Bluetooth after replacing it with new batteries (2 CR123A 3V).
*If batteries are defective, you may be eligible for a battery replacement via our warranty program.
*Related Posts: Recommended batteries for SwitchBot devices
7. If the above does not solve your issue, open our app and navigate to → Profile → Feedback and contact us for further assistance.
We would appreciate it if you could provide the following information when contacting us.
Video of SwitchBot Keypad/ Keypad Touch not responding